Digit Sucking Therapy (Thumbsucking / Fingersucking)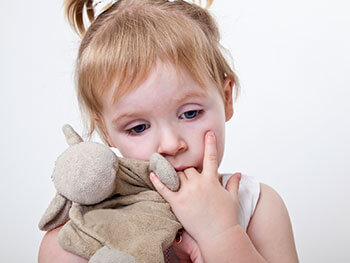 Did you know that infants often appear to be sucking their thumbs or fingers in ultra-sounds before they're even born? Most adults have been around one or more children who just can't keep their fingers out of their mouth, and while this habit is relatively harmless for the first couple of years, persistence into toddler and adolescent years results in unpleasant consequences for oral and facial development. Thankfully, Dr. Honor Franklin provides children with specialized attention and guidance in Dallas, TX. Digit sucking therapy (Thumbsucking / Fingersucking) makes a big difference for patients from Frisco, Rockwall, Prosper, Fort Worth, Denton, Mesquite, Aubrey, Plano, and beyond.
Why do some children suck their fingers or thumb?
Sucking is a normal, instinctive behavior in infants and is essential to survival. This natural and healthy sucking urge may generalize to other objects within their environment and the most common objects associated with this behavior are the thumb and fingers. Thumb and finger sucking is a very normal activity for infants and toddlers. Many children stop this behavior with little or no intervention by their parents. However, the sucking activity that persists beyond the age of 5 can be a source of significant and often preventable dental and speech problems as well as difficulties with the learning and socialization process.
What are the effects of Digit sucking (Thumbsucking / Fingersucking)?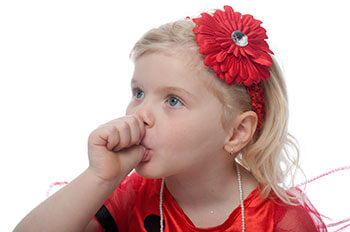 Digit sucking (Thumbsucking / Fingersucking) causes serious problems for a child's oral health, altering permanent teeth, gums, jaws and even overall facial form. It can cause an incorrect tongue and lip resting posture and incorrect swallowing pattern known as "tongue thrust". It can cause teasing by peers. Germs causing health issues such as pin worms, impetigo, and warts are more easily spread as well as causing crooked fingers. Speech difficulties such as lisps can occur requiring articulation speech therapy in the future.
Therapy with Dr. Franklin
Dr. Franklin is an expert at eliminating noxious sucking habits in a fun and positive manner. No punitive or hurtful appliances are used.
When initiating digit sucking therapy, patients need to be physically and emotionally mature to handle the process. That's why she recommends bringing your child to see her when they are around the age of five. Her goal is to motivate your child to want to participate in her digit sucking elimination program and, more importantly, to accept responsibility for stopping.
Once the sucking habit is eliminated, the patient gains many benefits such as an improved facial shape appearance, an ability to speak more clearly, better health and occlusion as well as a boost in self-confidence! Contact our Dallas office to learn more! We welcome patients from Park Cities, Highland Park, Dallas, North Dallas, Denton, Frisco, Prosper, and throughout the DFW Metroplex.