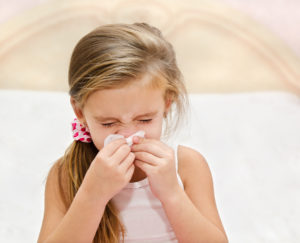 When a person exhibits a mouth breathing posture or chronic open mouth posture, it is important to determine if this posture is a habit due to past upper respiratory problems or if there are currently unresolved nasal airway concerns. The only professionals that can determine if you are able to breathe nasally consistently are ENTs and Allergists. Therefore, a referral to an ENT and Allergist is imperative.
Since nasal airway problems are the primary cause of an Orofacial Myofunctional Disorder (OMD), it is important to be evaluated by an ENT to rule out nasal structural obstructions such as enlarged tonsils and adenoids and an Allergist to rule out environmental airborne allergens.
Nasal airway problems are the CAUSE and the Orofacial Myofunctional Disorder (OMD), dental malocclusion  and articulation (speech) disorders are the RESULT.
I never initiate OMT until the CAUSE is addressed and treated. To concentrate on the EFFECT and to ignore the CAUSE is setting the patient up for failure. Dr. Honor Franklin at Honor Franklin Myofunctional & Speech Clinic has an ENT and Allergist on her team that are well versed in how nasal airway problems can prevent her Orofacial Myofunctional Therapy (OMT) from being successful long term and are experts at helping her patients achieve a patent nasal airway year round.
In Dr. Honor Franklin's private practice specializing in treating Orofacial Myofunctional Disorders (OMDs) and articulation (speech) disorders since 1977, she has found the MAJORITY of her patients have allergies over nasal structural obstructions.
Allergies are the fifth leading chronic disease in the U.S. among all ages and, with repeated exposure to allergens, many patients can develop allergic asthma. The Centers for Disease Control and Prevention (CDC) estimates that today, approximately 50 million Americans suffer from allergies and allergic asthma, and the prevalence is increasing.
"The simple task of blowing your nose has been shown to reduce nasal airway resistance by up to 50% and, in many cases, has served to eliminate the facial posturing perceived by some to be mouth breathing" (Hanson and Mason, 2003).
IAOM Certified Orofacial Myofunctional Therapists like Dr. Honor Franklin of Honor Franklin Myofucntional and Speech Clinic,  play a key role in identifying children, adolescents and adults with poor nasal hygiene and can teach them how to correctly blow their nose as well as support and reinforce the Allergist's recommendations.
Blowing the nose is as important as taking the allergy medicine correctly and consistently.
Since 1977, Dr. Honor Franklin has specialized in the evaluation and treatment of Orofacial Myofunctional Disorders (OMDs) in children, adolescents and adults which include an incorrect oral rest posture of the tongue and lips, an incorrect swallowing pattern (known as "tongue thrust" or "tongue thrust swallowing"), prolonged non-nutritive sucking habits and articulation (speech) disorders.She holds the distinction of being a Board Certified Orofacial Myologist/Myofunctional Therapist by the International Association of Orofacial Myology (IAOM); an honor held by a small percentage of professionals practicing orofacial myofunctional therapy. In fact, she in the ONLY Certified Orofacial Myofunctional Therapist in Dallas and is only one of three in the state of Texas! In addition, as a practicing Speech-Language Pathologist, she maintains Licensure by the State of Texas and a Certificate of Clinical Competence awarded by the American Speech and Hearing Association (ASHA).
Call today to schedule an appointment with Dr. Honor Franklin at Honor Franklin Myofunctional & Speech Clinic 972-233-1312 and Check Us out on Social Media: