This patient was referred to me in 1989, when he was 34 years old by his maxillofacial surgeon after having undergone orthodontic treatment FIVE times! ( In 1967-1968 and again 1976-1977 in Philadelphia, 1978-1980 in California, 1981-1984 in Dallas, Texas and 1988-1989 in Philadelphia).
When he presented to me for an Orofacial Myofunctional Evaluation in 1989 at age 34 years old, he was wearing upper and lower retainers during the day and you will not believe what he was instructed to wear at night to prevent his orthodontic – surgical treatment from relapsing – this horrific "tongue thrust" appliance!!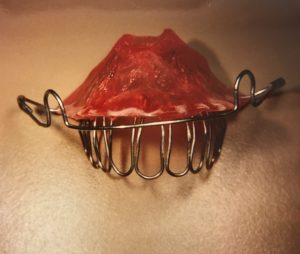 He reported he was always a "mouthbreather" prior to his maxillofacial surgery in 1984 at which time the maxillofacial surgeon performed a nasal turbinectomy during jaw surgery.
He reported having "hayfever" allergies and presented to me with an inconsistent open mouth posture, weak lip strength and chewed food with his lips open. Once he was able to control his allergies, via an allergy evaluation and following the Allergist's recommendations precisely, he was enrolled in Orofacial Myofunctional Therapy (OMT) and the horrific "tongue thrust" appliance he was instructed to wear nocturnally was discarded!!
Here are photos of his teeth when he completed OMT in 1990…

1 year after OMT in 1991…

And 26 years after OMT!

It is important to understand when there is an Orofacial Myofunctional Disorder (OMD), orthodontics and/or jaw surgery will not correct dental malocclusions without Orofacial Myofunctional Therapy (OMT). Nor can OMT correct dental malocclusions without orthodontics and/or jaw surgery. We work together to complement each other in order to get the most long term successful results for the patient.
Since 1977, Dr. Honor Franklin has specialized in the evaluation and treatment of Orofacial Myofunctional Disorders (OMDs) in children, adolescents and adults which include an incorrect oral rest posture of the tongue and lips, an incorrect swallowing pattern (known as "tongue thrust" or "tongue thrust swallowing"), prolonged non-nutritive sucking habits and articulation (speech) disorders.She holds the distinction of being a Board Certified Orofacial Myologist/Myofunctional Therapist by the International Association of Orofacial Myology (IAOM); an honor held by a small percentage of professionals practicing Orofacial Myofunctional Therapy. In fact, she in the ONLY Certified Orofacial Myofunctional Therapist in Dallas and is only one of three in the state of Texas! In addition, as a practicing Speech-Language Pathologist, she maintains Licensure by the State of Texas and a Certificate of Clinical Competence awarded by the American Speech and Hearing Association (ASHA).
Dr. Franklin has had extensive training and experience with orofacial myofunctional disorders (OMDs) and articulation (speech) disorders and is considered an expert in these fields. She welcomes referrals from Orthodontists, Pediatric Dentists, Maxillofacial Surgeons, Dentists, Pediatricians, Internists, and Speech Language Pathologists.
Call today to schedule an appointment with Dr. Honor Franklin at Honor Franklin Myofunctional & Speech Clinic 972-233-1312
and Check Us out on Social Media: