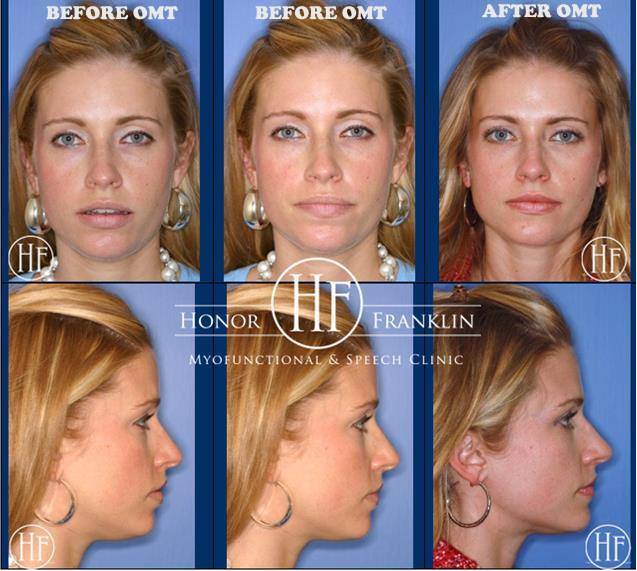 Here is my beautiful patient, Shay Lowe Shull who shared her experience with Orofacial Myofunctional Therapy at Honor Franklin Myofunctional & Speech Clinic and orthodontics at Adams & McBride Orthodontics on her blog, Mix and Match Mama that we posted on April 19, 2016. (http://shullfamily.blogspot.com/2014/09/fifty-two-shades-of-shay-myofunctional.html?m=1)

Orofacial Myofunctional Disorders (OMDs) can have a negative impact on facial development and can cause patients to exhibit a dull, sluggish appearance due to their chronic open mouth posture and can appear as though they have "baby fat" in their faces (which is not "baby fat" but is reduced muscle strength) and can exhibit tight, pursed lips when asked to close their lips as seen in the BEFORE photos. Notice the improvement in her facial shape in the AFTER photos. The corners of the eyes are lifted, no double chin, more relaxed symmetrical lips, chin and jaw – a more attractive appearance! OMT not only leads to a more favorable position of the teeth but also enhances the patients' overall facial appearance. Results like this are another example why IAOM Certified Orofacial Myofunctional Therapists are a necessary part of the orthodontic team in helping orthodontists achieve successful results. Thank you, Shay, for being such an awesome patient!

Dental Before and After photos of Shay will be in a future post on May 13, 2016.
#tonguethrust #orofacialmyology #orofacialmyofunctionaltherapy #IAOM #InternationalAssociationofOrofacialMyology
Dr. Honor Franklin is an IAOM Certified Orofacial Myofunctional Therapist at Honor Franklin Myofunctional & Speech Clinic call 972-233-1312 to set a consultation.