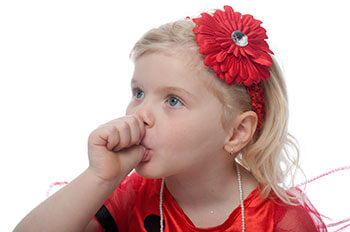 Although it is normal for babies to suck their thumb, doing so long-term could negatively affect their oral and facial development.
When children suck their thumbs or fingers, they can affect their teeth and jaws in different ways.  Some children create what is commonly known as a dental openbite (a vertical space between the upper and lower teeth where the teeth do not touch).  Openbites are notoriously the most difficult to correct.
Other children will suck so that it appears that their top teeth are "sticking out".  Surprisingly, in cases like these, it usually is the BOTTOM JAW that we are more concerned about.  This is because the thumb or finger is preventing the lower jaw from coming forward and growing properly.  Pressure applied from the thumb against the chin can affect the normal growth of the jaw which negatively affects the child's face.